What does voice technology for branding mean?
Voice-first technology for branding is poised to fundamentally change search practices and shopping habits. Fifty-five percent of U.S. households are projected to have a voice technology device by 2022.1 Unlike text searches that operate around keywords and return a list of options, voice searches act as a conversation in which a request is made and a single answer is given. Voice technology represents a number of challenges for brands, but also presents unique opportunities to create new experiences that build on all the touchpoints, interactions and values associated with the brand.
Going forward, brands need to refine their approach to accommodate voice technology for branding by offering utility, customer service and experiential interactions that are optimized for voice while taking advantage of the opportunity for data-gathering and feedback offered by this kind of search.
In terms of voice-only search, both lists and visual brand representations are eliminated, making traditional shelf (or even virtual shelf) branding elements including packaging and product design significantly less relevant at the moment of choice. Given Amazon and Google's current dominance in the voice space, it is their algorithms that often decide what single result is shared, eliminating options and causing smaller brands that don't rise to the top of the algorithm to disappear.
When the user asks for a type of product, Amazon or Google decide which brand it will be. But the technology is not just for searches: Amazon's voice technology uses "skills" that can be customized by your brand and loaded directly onto the technology; Google's assistant has apps that work in a similar way. And Siri, while more limited, is now moving beyond the iPhone with the launch of Apple's home voice assistant, HomePod.
Typed searches are deliberate and non-intuitive, where voice is casual and conversational. Voice technology responds like a person, creating space for a more human relationship between brand and user. In order to maximize voice technology for branding, brands should use the platform to be highly interactive and deeply personal, offering advice, personalizing their services for the user and ensuring that users request your specific brand or even buy directly from you. Tide, for example, offers stain cleaning advice through voice technology; brands should figure out how to create interactive experiences through voice that offer utility to the customer and draw them directly to your specific product.
Voice-first going forward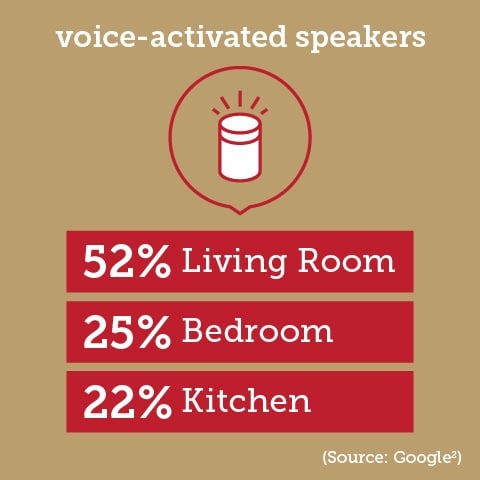 Users want their brands to be useful in the moment, so think about where in the house and in what context your user is most likely to think of and then interact with your product or service through voice, and build your experience accordingly. If your brand is food or kitchen-related, a recipe or cooking feature will regularly draw users to your app or product and create an experience around your brand.
The voice space is still in a highly experimental stage, offering a great opportunity to launch a simplified but well-executed skill or app to test your audio strategy, assess your ROI and collect key data. The most popular voice apps are those that minimize friction and offer guidance and utility in a conversational fashion. However, there are some features of traditional searches and text-based uses that will remain dominant, including those tied to comparison shopping, list-making and highly visual elements.
When considering using voice technology for branding, it is worth thinking about creating stand-alone voice experiences, but also how to tie your voice app to other elements of your brand experience, including your visual branding. As the voice technology ecosystem continues to grow, there are opportunities to be experimental and stake a place in the voice space to regularly engage customers on this platform while also gathering data on user behavior to help with long-term planning efforts.
As you consider your marketing strategy going forward, how will you create a voice-optimized experience for your brand?
Selected sources: